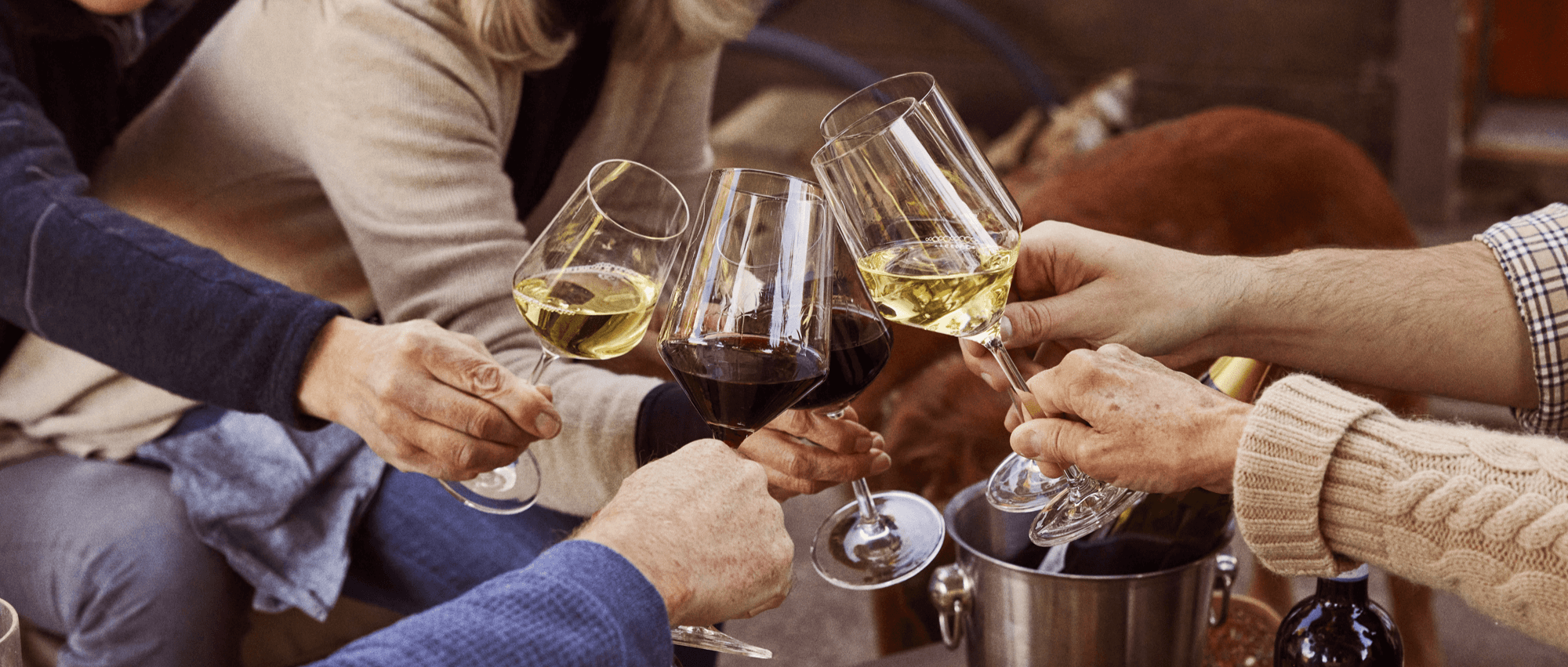 Shipping
For any questions please contact us through our contact us form or by calling 707-681-2911.
No matter which way you ship, remember to make sure that someone 21 or older is available to receive your package on the first delivery attempt. Please visit our FAQ page "Where We Ship" to ensure we can ship to your state. 
SHIPPING OPTIONS (Fall, Winter & Spring)
Please allow 7-14 days for orders to be processed by our fulfillment center. We use a third-party shipping company to get your wines to you. A 1% insurance fee will be added to the shipping fee at checkout, this is to cover your order if it is damaged or lost while in transit.
Ground 
Ground orders are packed and shipped out on Monday and Wednesday. When orders are processed an automatic email will be sent to you which includes tracking information. Tracking information will update once the national carrier has possession of the package. Flat rate fee of $20. 
*Only available in states West of the Rocky Mountains. 
Climate Controlled Ground
With the Climate-Controlled Ground shipping method, wines are packed and shipped each Friday in a climate-controlled truck headed to the local shipping gateway in your region. Tracking information is sent to customers via email once the package is labeled by our 3rd party shipping company. Once the package arrives at the local shipping gateway, your wine is handed off to your local carrier for its final transit via standard ground to your delivery address; this is when your tracking information will update. Total time for delivery from the time the package leaves our warehouse is approximately 5 to 10 days, assuming there are no delays. Flat rate fee of $25. 
*Only available in states East of the Rocky Mountains. 

Build a Case:
Is a $10 monthly subscription that allows you the flexibility to build a custom case of wine. Build a Case members have 60 days to complete their case. Once a case is completed at 12 bottles or hits the 60-day holding period, the wine in stock, it will be shipped. For more information on how our Build a Case program works, please click here. 
Specialty Carriers:
Arizona - Wine2U is a refrigerated wine delivery service used for all orders shipped to AZ. These orders are shipped on Fridays with our Climate Control Ground orders. 
Texas - Premium Wine Delivery or PWD - keeps orders in a climate-controlled environment for their entire journey. You will receive an email from PWD which includes a tracking number, and they will also contact you personally to arrange delivery when it is convenient for you! These orders are shipped on Fridays with our Climate Control Ground orders.  
Alaska & Hawaii - All orders shipping to Alaska and Hawaii will be shipped via 2-Day Air, and shipping rates will be calculated based on carrier rates. Please note that not all services are available in these states due to the specialized shipping required. 
Local Pick-up
Local pickups are available to our local Bay Area community via appointment only. 
Please schedule your pick-up at least 2 business days in advance to ensure that there is someone at the office to coordinate your pick-up and the warehouse has sufficient time to prepare your wines. If order(s) are not picked up within 60 days, they will be shipped to the address on file and standard shipping rates will apply.
To schedule a pick-up please click this link: https://calendly.com/sommselect-185/15min
For more details regarding Local Pick-up, please visit our FAQ Help Desk. 

Have a question about our shipping options?
Reship and Return Policy
Returns
Packages are generally returned to our facility due to no one of age being present to sign for the delivery or no one being present at all that the time of delivery. Shipping carriers will attempt to deliver a package 3 times with a proper signer present. Upon the 3rd delivery attempt if no one is available, the shipping carrier will return the shipment to our facility. The package return process can take up to 6 weeks to fully process back into our warehouse inventory.
Reshipping Packages
Any packages that are returned and processed will carry a $25 re-ship fee to be shipped back to you. No packages will be reshipped until that process is completed and a new shipping process is activated. If you are interested in having your package re-shipped to you, please reach out to our customer service team to request a re-ship.
Restocking
Any package returned to us without a request from the customer to reship it will automatically be restocked back into our warehouse inventory. Unless the package being returned is a direct result of a SommSelect error, no refund will be given. If you contact customer service after the restocking process has been completed, there is a possibility of securing a credit on file minus a $25 restocking fee.
Damaged Packages or Products
If a package or product is damaged please follow the instructions in our "What do I do if my package was delivered damaged?" FAQ article and contact the customer service team. Credits on file and or refunds for damaged package or products are handled on a case-by-case basis.
Address Change Policy
It is the responsibility of the customer/purchaser to ensure the shipping address provided during the checkout process is accurate and up to date.  We understand mistakes happen, in the event a purchase is associated with a past or inaccurate address and we are able to reship to your proper address a $25 address change fee will apply. If a package requires reshipment across state lines a $25 restocking fee will apply as the package will be returned to our facility and the process would need to start over; a re-ship fee of $25 will ALSO apply to packages that require rerouting or re-shipping across state lines.